With permeable soils and a lower development density, septic systems are a common and effective residential wastewater solution on Cape Cod. To protect Cape Cod's most important resource, our waterways, septic system requirements are closely regulated, and rightly so.
When you buy or sell a home, a passing Title V is required, and if you plan to build a new home, you will need to meet all local and state requirements for your new septic system. When it comes time to replace or install a new septic system, Cranberry Landscape & Design has all the heavy equipment on hand to ensure a successful result.
Septic system excavation and prep
A properly functioning septic system needs a lot of careful planning and preparation. First you will need to engage with a qualified engineer to design your system. Then, with plan and permit in hand, we can begin breaking ground.
If you are installing a new system, we will dig all the required trenching and pits for your septic tank, distribution box, pipes, and leaching fields, all to your engineer's specs. If you are replacing a failed septic system, we will start by removing the old septic tank and any other failing components such as the d-box.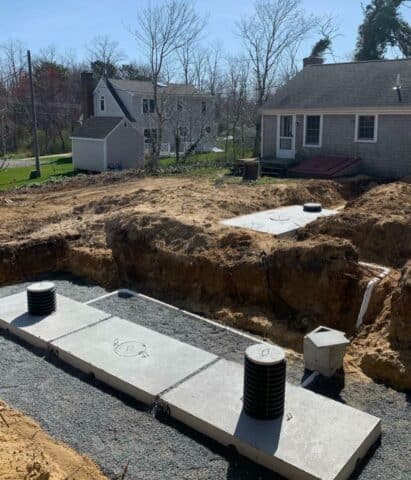 Septic system installation
Once your site has been prepared and excavated, we will install your brand new tank and any other essential parts of your system. This includes hauling in your precast tank and gently lowering it into place, setting all pipes to the correct depth and angle, and backfilling all pits and trenching as needed. Finally, we will ensure proper site grading and drainage, just like we were prepping your site for a brand new build. When we are done, you will hardly know we were there, and you will have a fully functioning septic system that will serve you and your family for years to come.
Call Cranberry Landscape & Design Today
Cranberry Landscape & Design has everything you need for quality septic system installation, ensuring you have an efficient wastewater system that will serve your home for years to come. Contact us today for all your septic installation needs.
Got a Project? Get a Quote!