Every building or landscaping project must start with a great site, but not every site starts off great. Cape Cod's rugged typography was sculpted by glaciers long ago, meaning your plot may be uneven, soggy, or filled with large trees or even boulders (we call them glacial erratics around here). With decades of experience in Cape Cod excavating and site prep, Cranberry Landscape & Design has seen it all, and can create the perfect canvas for your Cape Cod construction project.
Land clearing
More often than not, your Cape Cod land will contain some kind of vegetation, whether that's scraggy bushes, clusters of pines, or even mature oak trees. We are experts in clearing trees and shrubs, and we will also grind and remove the stumps that are left behind. We can even leave some trees untouched if you want to keep them for privacy, shade, or simply beautification of your property.
Site grading and drainage
Once your lot is cleared, our team will ensure it is properly graded and has sufficient drainage. This can involve leveling areas, backfilling sections and even digging drywells as needed. All of this work makes sure you have a level starting point for your construction project, while making sure surface water is diverted away from critical structural components such as foundations.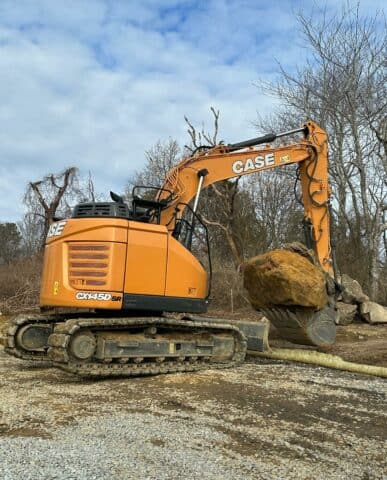 Excavating Service
Now comes the fun part! Cranberry Landscape & Design has all the powerful heavy equipment required to dig to the required depth and dimensions for your project with speed and accuracy. Here are some of our specialties:
Foundation excavation
Utility trenches for new services
Swimming pool excavation
Call Cranberry Landscape & Design Today
For nearly three decades, Cranberry Landscape & Design has developed sites across Cape Cod and the South Shore for building projects of all sizes. Contact us today for all your excavating needs.
Got a Project? Get a Quote!